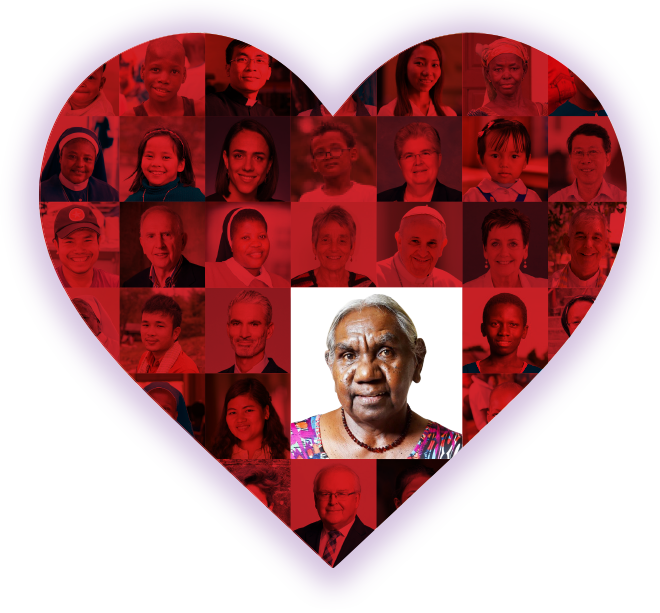 Presenters and their Specialised Workshop themes are confirmed and appear below. The details of Specialised Workshops that have been finalised appear in red. Participants will have the opportunity to select one of the Specialised Workshops each day.
Wednesday 1 September, 2021
2.00pm–3.30pm

Specialised workshop focus
Belonging to a parish community post 2020
Presenter: Grace Roclawska csfn, Head: Formation for Mission, Diocese of Parramatta
Presenter: Trevor Trotter SSC, Director of St Columbans Mission Society for Oceania
Unless we have a vision/a dream, we lack motivation and direction for our mission. In his book, Let us Dream, Pope Francis shares his dream, what he sees in the world and his strategy to address the mission of the Church. His view is that the Spirit is working throughout the world and we, as missionary disciples, are invited to work alongside this God on mission. By helping participants understand and be inspired by his missionary vision, Trevor hopes that participants will come to a clearer understanding of what the Spirit is inviting them to do at this time.
Specialised workshop focus
Living beyond grief and trauma towards healing
Presenter: Judy Atkinson PhD, Professor Emeritus, AM
Presenter: Anne Muirhead
Prayer is the core of mission-informed formation that leads to transformation at the level of heart, the heart of an organisation and maybe even the heart of the universe. Enriching, mission-focussed gathering prayers at meetings or celebratory days have the tremendous ability to: link the unfurling story of an organisation with the macro-stories of our Judeo-Christian tradition; express and expand understanding of our values and vision, mission and ministries; affirm and empower colleagues in their unique roles; challenge us to change. This workshop will provide participants with practical examples of ways in which prayer can be scaffolded according to sound liturgical principles and, at the same time, reverberate with creativity and connectivity, even in an online environment.
Specialised workshop focus
Leadership and our emerging future in religious life
Presenter: Gaye Lennon rsm, Institute Councillor, ISMAPNG
Specialised workshop focus
Anti-slavery and anti-trafficking
Presenter: Noelene Simmons, ACRATH
Specialised workshop focus
Leadership and Governance…holding the balance between church and civil accountabilities with a mission focus
Presenter: Robyn Miller, CEO of MacKillop Family Services
Specialised workshop focus
Communal discernment and the Plenary Council
Presenter: Lana Turvey-Collins, Facilitation Team, Plenary Council
Specialised workshop focus
Building partnerships and connections for the common good
Presenter: David Barrow, Lead Organiser, Sydney Alliance
Thursday 2 September, 2021
1.45pm–3.15pm

Specialised workshop focus
Leadership Now for Social Services
Presenter: Ursula Stevens, CEO, Catholic Social Services Australia
Presenter: Hugh Mackay, Social Psychologist and Researcher
"Generous, erudite, optimistic and candid…Hugh Mackay encourages us to find the best in ourselves and in our society in both good and troubled times. Following the ravages of 2020's bushfires and pandemic on our mental and emotional health and on the economy, Hugh reflects on the challenges we faced during that year of upheaval and the questions many of us have asked. What really matters to me? Am I living the kind of life I want? What sort of society do I want us to become?" Join Hugh as he works with us in how we can restore hope, rebuild trust and inspire optimism.
Presenters: Steff Fenton, Associate Pastor, New City Church and Peter Maher, Catholic Priest of Sydney Archdiocese, Pastoral Supervisor and Supervisor Trainer
Difference and diversity are God's gifts throughout creation to enhance the world with beauty. Cruel and humiliating words and actions dehumanise those who are different, to justify discrimination and silencing of their stories. We will explore the weaknesses of church teaching and what has changed to better understand LGBTIQA+ realities and their stories. We will enable questions and discussion around how to include LGBTIQA+ Christians as members of the church with gifts to share, rather than broken people needing help. We believe it is time to see LGBTIQA+ for their spiritual gifts and not as members needing to be fixed.
Specialised workshop focus
Using digital technology and strategies to build parishes and communities
Presenter: Anthony Costa, Anthony Costa Media, Digital Ministry Agency
Specialised workshop focus
Interfaith dialogue
Presenters: Patrick McInerney SSC, Director, Columban Centre for Christian-Muslim Relations and Ryan Epondulan, Youth and Networking Coordinator, Columban Centre for Christian-Muslim Relations
Specialised workshop focus
Aged care services
Presenters: Caroline Thompson, Director of Formation, Mercy Partners and Fritha Radyk, CEO, Mercy Community
Presenters: Anne Benjamin, Honorary Professor, Australian Catholic University and Charles Burford PhD, Honorary Professor, Australian Catholic University
Leadership is central to developing cultures which reflect the character and nature of an organisation's mission. Pope Francis is calling our church today to a synodal culture. To build strong cultures, leadership theory says leaders must identify and live out the core values of their mission. If we are to build synodality, we should lead in a particular way. Pope Francis sees such leadership as walking together in faith under the guidance of the Spirit to realise the Mission given to us by Jesus. Leadership research points to synodal cultures as being characterised by dialogue, respectful listening, spiritual and moral discernment, consensus, open communication and joint decision-making. The workshop is designed to help leaders build synodal cultures in their ministries through discerning and decision-making for mission.
Specialised workshop focus
200 years of Catholic Education – what's next?
Presenters: CLEM Team, Wollongong Diocese
Specialised workshop focus
Governance with reference to the Light from the Southern Cross documentation
Presenter: Eva Skira
Friday 3 September, 2021
12.00–1.30pm

Presenter: Robert Fitzgerald AM, NSW Aging and Disability Commissioner
Specialised workshop focus
Emerging trends in mission in Australia
Presenter: Albano Da Costa SVD, Dorish Maru College (DMC)
Specialised workshop focus
Disability in light of the Royal Commission and the role of the Church in advocating for the dignity of the human person
Presenter: Dominic Golding, Policy Officer, National Ethnic Disability Alliance
Presenters: Sally Neaves, Integral Ecology Animator and Mission Ministry Resource Coordinator of the ISMAPNG Guinea and Margie Abbott rsm, Igniting Sparks: McAuley Ministries
By entering into the power of creating active hope through experiential processes that will enable participants to warm up to both the pain in the world and an attitude of gratitude which clarifies our thoughts, strengthens our nervous system, and connects us with the Source that enlivens our being.
Specialised workshop focus
Leadership for mission within the civil world – Health
Presenter: Philippa IPip) McIroy, Group Mission Integration Manager – Formation and Ethics, Modern Slavery Project Lead, St Vincent's Health Australia
Specialised workshop focus
Sharing the journey – inclusion
Presenters: Eric Robinson, Associate Director, Inclusion (Evangelisation Brisbane, Archdiocese of Brisbane) and Jessica Laidler, Project Office, Inclusion (Evangelisation Brisbane, Archdiocese of Brisbane)
Specialised workshop focus
The Uluru Statement from the Heart
Presenters: Evelyn Parkin, Quandamooka woman and Dean Parkin, Director, From the Heart
Specialised workshop focus
Reform and renewal in the Catholic Church
Presenters: Trish Hindmarsh, Educator
Specialised workshop focus
Engaging Parish Leadership
Presenters: Oran Park Parish, NSW